Welcome back to the Weekly Round-Up! I hope you all had a great week! My week was a little hectic but was really good. I went to a training day at work on Wednesday and learned a lot. Over the weekend we moved a little bit of our things but we weren't able to do much (just waiting on the floors to be finished!). But onto the books! This week I read a bunch of really awesome graphic novels that I really loved and wanted to tell you guys about.
The first one that I absolutely adored was Meg, Jo, Beth, and Amy: A Graphic Novel: A Modern Retelling of Little Women by Rey Terciero and illustrated by Bre Indigo. Here is the description from Goodreads: "2018 marks the 150th anniversary of the classic Little Women by Louisa May Alcott. Join Meg, Jo, Beth, and Amy as they are re-envisioned as a blended family living in modern day NYC in this beautiful graphic novel.
With their father away in the military and their mother working two jobs to support the family, the March sisters have to rely on one another to make it from day to day. Whether they're arguing over the bathroom, struggling with homework, fighting off bullies, understanding their crushes, or battling cancer, there's one thing the four sisters keep questioning–will everything turn out okay?
Join modern young women, Meg, Jo, Beth, and Amy in a new narrative that follows four sisters and their struggles in growing up, dealing with racism, discovering themselves, and following their dreams."
I really loved this retelling of Little Women (I know there are a ton out there lately) mostly because it felt updated without being forced. I loved that they were living as a blended family and having their dad be deployed felt very realistic. They felt like they could be a real family that you would know in this day and age. The sisters all had their own unique personalities and I felt that they all came through fantastically throughout the book. If you are a fan of women driven graphic novels then I think this one would be a great read for you. I would highly recommend it.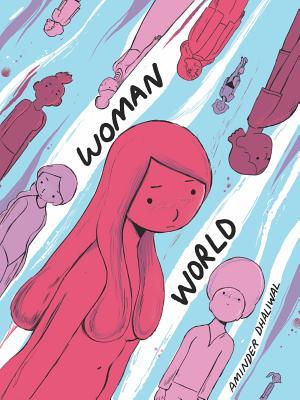 The next graphic novel that I read is called Woman World by Aminder Dhaliwal. This is a webcomic by the same name that has been released in a fantastic print edition with previously unreleased materials. I wasn't sure what this was going into to it. It was on our new shelf at the library and it sounded interesting so I grabbed it and took it home to check it out and I'm so glad that I did! This comic is about a world without men. A birth defect wipes out all the men in the world and the only remaining population are women (and people who identify as women). I wasn't sure if I was going to like this book but it was so fantastic. I really liked the simple artwork and the color palette as well as the hilarious comics. I would highly recommend this to all the ladies out there to check it out.
Next we have a graphic novel called Glitch by Sarah Graley. This book is more geared towards a middle grade audience but I still really enjoyed it and I think as long as you go into it knowing that it is not an adult book really anyone can love this book. This story is about Izzy who gets sucked into her new video game, Dungeon City. Once she's inside the video game she meets a robot named Rae who saves it is her destiny to save Dungeon City. But is it really though? You will have to check out the book to find out! This book was really fantastically done. I loved the story and the gorgeous colors throughout the book. I would highly recommend this book for video game fans especially but it's really great for everyone!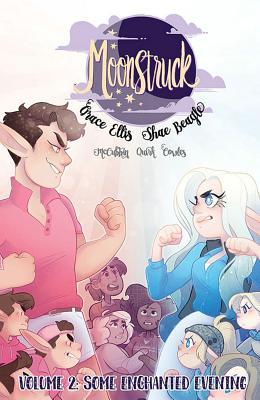 The next book I read was a comic book called Moonstruck, Volume 2: Some Enchanted Evening by Grace Ellis. I have read volume one and liked it but this volume fell very short from the first volume. The story seemed to not make much sense. There were times where there was a life or death type of situation but then the characters that were supposed to be saving them went to the mall?? It didn't seem to make much sense to me as a reader. I loved all the representation but I didn't really understand the relationship between the two main characters, Selena and Grace. They were all madly in love one second and they yelling and screaming for really small things the next second. Again, it didn't really make much sense. My favorite character is still Chet by far, he is the best and always hilarious. I feel like if you liked volume one you can maybe check this out but honestly, I wouldn't really recommend this volume. Hopefully, volume three will be better.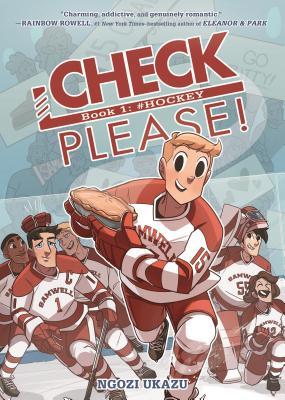 The last book I wanted to talk about was my favorite of the week, Check, Please! #Hockey, Volume 1 by Ngozi Ukazu. Here is the description from Goodreads:
"Helloooo, Internet Land. Bitty here!
Y'all… I might not be ready for this. I may be a former junior figure skating champion, vlogger extraordinaire, and very talented amateur pâtissier, but being a freshman on the Samwell University hockey team is a whole new challenge. It's nothing like co-ed club hockey back in Georgia! First of all? There's checking. And then, there is Jack—our very attractive but moody captain.
A collection of the first half of the mega-popular webcomic series of the same name, Check, Please!: #Hockey is the first book of a hilarious and stirring two-volume coming-of-age story about hockey, bros, and trying to find yourself during the best four years of your life."
THIS BOOK YOU GUYS. This book was absolutely adorable and I loved it with all of my heart. I will 100% be adding this book to my collection. I loved all of the characters and the story is great and it's just GREAT YOU GUYS. Everyone needs to read and love this book.
That is it for this week! I hope you all had a great week and I look forward to hearing from you all in the comments!