This week I was trying to finish up some library books that I had checked out as well as some ARCs that I received. Most of the books I read this week were graphic novels once again (not a big surprise there!). And for the most part I really enjoyed them! Without further ado, onto the books!
One of the first ARCs that I finished up last week was Hawking by Jim Ottaviani. I feel like the synopsis from Goodreads is a good place to start: "Following their New York Times-bestselling graphic novel Feynman, Jim Ottaviani and Leland Myrick deliver a gripping biography of Stephen Hawking, one of the most important scientists of our time.
From his early days at the St Albans School and Oxford, Stephen Hawking's brilliance and good humor were obvious to everyone he met. A lively and popular young man, it's no surprise that he would later rise to celebrity status.
At twenty-one he was diagnosed with ALS, a degenerative neuromuscular disease. Though the disease weakened his muscles and limited his ability to move and speak, it did nothing to limit his mind. He went on to do groundbreaking work in cosmology and theoretical physics for decades after being told he had only a few years to live. He brought his intimate understanding of the universe to the public in his 1988 bestseller, A Brief History of Time. Soon after, he added pop-culture icon to his accomplishments by playing himself on shows like Star Trek, The Simpsons, and The Big Bang Theory, and becoming an outspoken advocate for disability rights.
In Hawking, writer Jim Ottaviani and artist Leland Myrick have crafted an intricate portrait of the great thinker, the public figure, and the man behind both identities."
After reading that synopsis I thought I would be reading a book about Hawking's life. That's not really what this book is about though. It's very, very heavy on the science and not to heavy on Hawking's personal life. The first half of the book was almost impossible to read (unless you know a lot about physics!) but it did get better in the second half. There was nothing (that I can recall) about him being an advocate for disability rights in this book, nothing about him playing himself on any TV shows (it more seemed like he didn't like the fame and wanted nothing to do with it), and nothing that was really that interesting! This was a fascinating man and I feel like they watered him down to just the science that he was responsible for and not much else. The one thing that I did like about the book was the artwork by illustrator Leland Myrick.
The next book that I would absolutely LOVE to talk about is Bloom by Kevin Panetta. I cannot express enough how much I loved this graphic novel. This book is about Aristotle (called Ari throughout most of the book) and his life after graduating high school. He really wants to move to the big city with his band and try to play music full time, if only he could convince his dad to let him quit his job at the family bakery. But the bakery is struggling and his family needs Ari to help out there for the time being. He makes a deal with his dad, if he can find a replacement for himself then they might let him move to the city. While interviewing people for the job, Ari meets Hector. Hector loves baking and if Ari doesn't mess everything up, he may love Ari too. This BOOK YOU GUYS. It's a big one coming in at a whopping 368 pages but they fly by because this book is just that good. I would highly, highly recommend this book. I adored it and I will be adding it to my personal library as soon as I can!
The next book that I would like to talk about is called Satania by Fabien Vehlmann (writer) and Kerascoët (illustrator). I've read another book by this duo called Beautiful Darkness (which was fantastic but hella creepy. I would highly recommend it though). This book is about Charlie (Charlotte) who is going on an expedition underground to find her missing brother, Christopher. He has disappeared while on a mission to discover hell using Darwin's theory of evolution months ago but she is adamant that he is alive. While they are on this expedition a sudden flash flood moves them further into the cave system that they are in. The only way out for the group is through the cave system. While they move through the caves they encounter a race of strange people, demons, and whole manner of weird things. I really liked this book but most of all I loved the illustrations. They are gorgeous and weird and some of the best I've seen in a book like this. If you like creepy books then this one is definitely for you!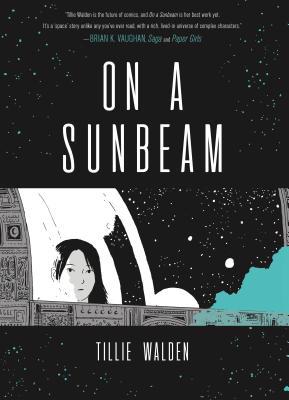 The last book that I want to talk about is On a Sunbeam by Tillie Walden. I really loved this book and the art style was fantastic. I've read one other book by Tillie Walden, Spinning, which is a book about the author's childhood spent figure skating and coming to terms with her sexuality. This book is about Mia. She joins a crew aboard a space ship as they travel the galaxy restoring old buildings. The more she gets to know the crew the more she reveals about why she has taken the job aboard the space ship. She is trying to find her lost love, Grace. This is another big book, coming in at 544 pages. But honestly I didn't really notice how big it was once I got started. It was amazingly drawn and colored. There were pages in here that you could take out and frame as art they were that gorgeous. I can't wait to get a copy of this book and add it to my collection. I will gladly read it over (which I normally do not do).
That is it for this week! Sorry this post is a little late. How are you guys doing? Read anything good lately? I would love to hear from you! Come say hi on Twitter too!