I read 500 hundred books in 2019. Instead of picking a top ten for the year or something like that, I want to pick my favorite book that I read each month (realistically it will probably be more than one book but I will try to keep it to one per month!). What books did you like during last year? Did you have a favorite (or two) that stood out to you? I would love to hear about them in the comments! Now onto the books!
TLDR: this review is over 5,000 words long. The gist of it is, I read some great books in 2019! I would love to share them with you but if you don't want to read all of my rambling I totally get it. If you do though, I hope you enjoy!
January
I read a bunch of really great manga in January of last year but there were two fiction books that I really loved. The first is Final Girls by Riley Sager and the second was a YA book called Dumplin' by Julie Murphy.
I'm sure by now most people know what Dumplin' is about since they just made it into a Netflix movie last year. I have not seen the movie but I really, really wanted too but I couldn't watch the movie until I had read the book. I seriously could not put this book down! What I loved most was that Willowdean was a real ass person. She most definitely screwed up multiple times and didn't fix things because it was too awkward and painful (SAME). She loved her mom but her mom was nowhere near perfect. I just liked the fact that the relationships in the book seemed very realistic. I have read the second book as well and it was just as good, if not better!
Final Girls was one of my favorite books that I read last year. It was a fantastic thriller and a great mystery. It was just an all-around very entertaining read and I could not put it down. If you are a lover of puzzles this one would be fantastic for you. The book is about the girls that are left behind after mass murders; Lisa, Sam, and our MC, Quincy. All is fine and dandy in their lives (as much as it can be after you survive a massacre) until one of the Final Girls, Lisa, commits suicide. Is it suicide like the police say it is or is there a plot to kill the Final Girls one by one? Read the book and find out!
February
The first book that I really enjoyed in February was To All the Boys I've Loved Before by Jenny Han. I know this was a really popular book when it first came out but I missed it then. I watched the movie (I KNOW) when it came out on Netflix and I LOVED it so I was very excited to read the book! (Just a side note, I read the whole series and loved it!) I really love Laura Jean Covey. I want to protect her at all costs because she's so precious! The whole series was great but this one has a special place in my heart because it started it all. 
The Gentlemen's Guide To Vice and Virtue by Mackenzi Lee was another one that I really enjoyed in February. This book is SO GOOD!!! I read this as an e-book and as we know I'm not really a fan of e-books UNLESS they are really freaking good like this one! I flew through this book and I just could not get enough of Monty, Percy, and Felicity. The adventures they have and the relationship between Monty and Percy is just so PERFECT. I'm really looking forward to reading the second book – which I still haven't gotten around to, whoops.
March
On The Come Up By Angie Thomas was one of my favorite books in the month of March. This book takes place after Angie Thomas' last book, The Hate U Give. But this book can be read as a standalone book, no problem. Some of the events from the first book are mentioned but you can easily figure out what is going on without reading THUG. Just in case you haven't heard the hype surrounding this book, here is the description from Goodreads: "Sixteen-year-old Bri wants to be one of the greatest rappers of all time. Or at least make it out of her neighborhood one day. As the daughter of an underground rap legend who died before he hit big, Bri's got big shoes to fill. But now that her mom has unexpectedly lost her job, food banks and shutoff notices are as much a part of Bri's life as beats and rhymes. With bills piling up and homelessness staring her family down, Bri no longer just wants to make it—she has to make it."
This book deals with a lot of hard things. I have never had anyone in my family (especially my mom) be addicted to drugs. I've never dealt with a lot of things in this book but I have dealt with a few of them. What I related to most was being poor while trying to grow up and deal with school and friends and plenty of other things. The older I get the more that I realize just how hard my parents worked to keep a roof over our heads. Reading about everything that Bri and her family went through took me right back to that place and it just ripped me apart (in a good way!). Angie Thomas is such a good writer that just one sentence can evoke so many memories and emotions. I cannot recommend this book enough. I would give it 8,000 stars out of 10.
April
The first book that I really loved in April was Archival Quality by Ivy Noelle Weir. This graphic novel is about Celeste "Cel" Walden who was a librarian that was let go from her previous job after a mental breakdown. She is desperate to find a new job and Abayomi Abiola is searching for a new archivist at the Logan Museum. She quickly finds out that the new job is anything but what it seems. It comes with an apartment that is located inside the museum that Cel gets to live in for free and her job is overnight after the museum closes and everyone goes home. Soon things start happening. She starts losing time, there are odd noises late at night, objects are moving around – and Cel is getting blamed. She also starts to have horribly realistic nightmares of a young woman. Cel must work with her boss, Holly Park, and Abayomi, the head curator, to find out what happened long ago in the Logan Museum.
This graphic novel is FANTASTIC. It deals with mental illness in a different way than other graphic novels that I've read before. It seemed more real and raw to me in that sense. I really loved the storyline and the mystery as well. As someone who works at a library, I really understood how Cel felt when she got let go from her job and said that the job was her whole life and that she didn't want to do anything else (that would be me if I ever stopped working here!). She is a great character and most definitely has lots of flaws and they are not hidden from the reader in any way. She is portrayed as a complicated human being who is going through a lot of things in her life. I really loved Cel as a person; I just wanted to jump in the book and help her out so bad! If you are a fan of mysteries then this will be right up your alley!
The next book that I would absolutely LOVE to talk about is Bloom by Kevin Panetta. I cannot express enough how much I loved this graphic novel. This book is about Aristotle (called Ari throughout most of the book) and his life after graduating high school. He really wants to move to the big city with his band and try to play music full time, if only he could convince his dad to let him quit his job at the family bakery. But the bakery is struggling and his family needs Ari to help out there for the time being. He makes a deal with his dad, if he can find a replacement for himself then they might let him move to the city. While interviewing people for the job, Ari meets Hector. Hector loves baking and if Ari doesn't mess everything up, he may love Ari too. This BOOK YOU GUYS. It's a big one coming in at a whopping 368 pages but they fly by because this book is just that good. I would highly, highly recommend this book. I adored it and I will be adding it to my personal library as soon as I can!
The last book that I want to talk about for March is On a Sunbeam by Tillie Walden. I really loved this book and the art style was fantastic. I've read one other book by Tillie Walden, Spinning, which is a book about the author's childhood spent figure skating and coming to terms with her sexuality. This book is about Mia. She joins a crew aboard a space ship as they travel the galaxy restoring old buildings. The more she gets to know the crew the more she reveals about why she has taken the job aboard the space ship. She is trying to find her lost love, Grace. This is another big book, coming in at 544 pages. But honestly, I didn't really notice how big it was once I got started. It was amazingly drawn and colored. There were pages in here that you could take out and frame as artwork, they were that gorgeous. I can't wait to get a copy of this book and add it to my collection. I will gladly read it over (which I normally do not do).
May
One of the first books that I really enjoyed in May was a memoir called In Real Life: My Journey to a Pixelated World by a YouTuber, Joey Graceffa. Joey Graceffa has also written a trilogy of children's books called The Eden Trilogy (I haven't read those yet but I am looking forward to checking them out!). I had watched a few of his videos before reading this memoir but I wasn't too familiar with his life or style before diving into this book so I wasn't really sure what to expect. I was very surprised at how much I enjoyed this book. The content was not what I expected and I was shocked by what a horrible childhood that he had. I had no idea about any of it and I was really surprised by how he wrote about everything with such candor. I really enjoyed the book even though there were some things in there that were a little bit hard to read about. I would recommend this for teens or young adults.
Lastly, for this month I read the first in a trilogy called Captive Prince by C.S. Pacat. 
June
The first graphic novel that I read in June is called Woman World by Aminder Dhaliwal. This is a webcomic by the same name that has been released in a fantastic print edition with previously unreleased materials. I wasn't sure what this was going into it. It was on our new shelf at the library and it sounded interesting so I grabbed it and took it home to check it out and I'm so glad that I did! This comic is about a world without men. A birth defect wipes out all the men in the world and the only remaining population are women (and people who identify as women). I wasn't sure if I was going to like this book but it was so fantastic. I really liked the simple artwork and the color palette as well as the hilarious comics. I would highly recommend this to all the ladies out there to check it out.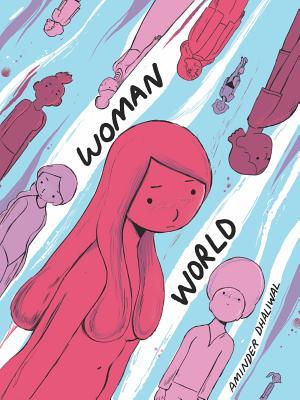 The last book I wanted to talk about was my favorite of the month of June, Check, Please! #Hockey, Volume 1 by Ngozi Ukazu. Here is the description from Goodreads:
"Helloooo, Internet Land. Bitty here!
Y'all… I might not be ready for this. I may be a former junior figure skating champion, vlogger extraordinaire, and very talented amateur pâtissier, but being a freshman on the Samwell University hockey team is a whole new challenge. It's nothing like co-ed club hockey back in Georgia! First of all? There's checking. And then, there is Jack—our very attractive but moody captain.
A collection of the first half of the mega-popular webcomic series of the same name, Check, Please!: #Hockey is the first book of a hilarious and stirring two-volume coming-of-age story about hockey, bros, and trying to find yourself during the best four years of your life."
THIS BOOK YOU GUYS. This book was absolutely adorable and I loved it with all of my heart. I will 100% be adding this book to my collection. I loved all of the characters and the story is great and it's just GREAT YOU GUYS. Everyone needs to read and love this book.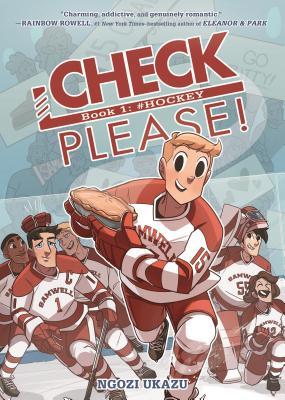 July
The next two books are from the same authors, Gaby Dunn and Allison Raskin. The first one is i hate everyone but you and the sequel please send help. These two books are about bffs Ava and Gen.
Blurb from Goodreads:
"Dear Best Friend,
I can already tell that I will hate everyone but you.
Sincerely,
Ava Helmer
(that brunette who won't leave you alone)
We're still in the same room, you weirdo.
Stop crying.
G
So begins a series of texts and emails sent between two best friends, Ava and Gen, as they head off to their first semesters of college on opposite sides of the country. From first loves to weird roommates, heartbreak, self-discovery, coming out and mental health, the two of them document every wild and awkward moment to each other. But as each change and grow into their new life, will their friendship be able to survive the distance?"
I tore through these two books. I had pre-ordered the first book back in December and was so excited when it arrived! I read it in about 2 days and immediately ordered the second book. It was a long two-day Amazon Prime wait until I got the second book and then I read that one super fast too! I was so sad that the books were over. I really loved the characters and they reminded me a little bit of my long-distance bff and I. I was also already familiar with the two authors before I read these books, having watched their YouTube channel for quite a while now. I think because of that I was familiar with their humor and knew what to expect going into this experience. I've read a few other reviews saying that people don't talk the way the two main characters do, and while some of the interactions feel like that, I felt that more often than not the characters felt realistic. I really liked these two books so very much and I hope that other people will give them a chance as well.
Next up we have a graphic novel that I had been dying to read called Laura Dean Keeps Breaking Up with Me by Mariko Tamaki. Here is the Goodreads description: "Laura Dean, the most popular girl in high school, was Frederica Riley's dream girl: charming, confident, and SO cute. There's just one problem: Laura Dean is maybe not the greatest girlfriend.
Reeling from her latest break up, Freddy's best friend, Doodle, introduces her to the Seek-Her, a mysterious medium, who leaves Freddy some cryptic parting words: break up with her. But Laura Dean keeps coming back, and as their relationship spirals further out of her control, Freddy has to wonder if it's really Laura Dean that's the problem. Maybe it's Freddy, who is rapidly losing her friends, including Doodle, who needs her now more than ever. Fortunately for Freddy, there are new friends, and the insight of advice columnists like Anna Vice to help her through being a teenager in love."
This was a fantastic graphic novel. I really enjoyed reading about Freddy and her questionable decisions. Honestly, she was a really crappy friend throughout the book and it was really nice to see her growth by the end of the story. This is a great high school slice of life type book so if that is something that you are into then this will be right up your alley.
August
Next up we have an adult graphic novel that is short, sweet, and sexy. This book is called Crossplay and it is by Niki Smith. Here is the blurb from Goodreads: "Close friends and new acquaintances at an anime convention confront their crushes, challenge their hang-ups, and question their once-comfortable identities in this erotic graphic novel about discovering who you're meant to truly be and who you're meant to love."
This is the debut graphic novel for Niki Smith and after reading this one I'm very excited to see what she does next! This book was really awesome and very sex-positive. I really enjoyed the group of friends that was portrayed in the book, I wanted to hang out with them! The only thing that I was slightly disappointed by was how short the book is. I read this in about 15 minutes. Length does not equal a good book by any means but this just felt very short and I would have loved to get to know the characters more! But other than that aspect, I very much enjoyed this book!
One of the books that I sped through in the month of August is called Lock Every Door by Riley Sager. I've raved about Riley Sager before and this book did not disappoint! I've read his other books and loved them as well so I was really excited to dive into this one. This book was so good! It centers around Jules, who is newly unemployed and single. She's living on her friend's couch while looking for a new job when she comes across an ad in the newspaper for an apartment sitter at the Bartholomew. The rules of her new job are simple, if a little eccentric: no visitors, no nights spent away from the apartment, no bothering the other residents. The job sounds like a dream come true. She gets to stay in a beautiful, historic building that is the setting for her favorite book. It sounds too good to be true. She meets another apartment sitter Ingrid and they bond over the strange rules of the building and the weirdness of the job. Ingrid tells Jules some of the dark history of the Bartholomew but Jules just brushes it off as a creepy story and nothing more. But once Ingrid goes missing Jules starts to think that maybe there was something to that story after all.
This book had so many twists and turns that I thought I had it figured out a few different times. I was partially right but there were some details that I didn't get until they were revealed. I loved Riley Sager's books because I kind of figure out some details but then there will be a twist and I'm just like, oh, that's not what I was expecting at all. I would highly recommend this book to anyone who is a fan of mysteries. This book (and the other's by Riley Sager) will be right up your alley!
September
This next book is YA fiction and it is called Sometime After Midnight by L. Phillips. This book is about Nate and Cameron who meet in a club while they are watching a band called the Jacket Zippers. The two have a ~moment~ before they are interrupted and are forced to go their separate ways. And of course, no one gets anyone contact info so they don't have any way to know if their moment could turn into something more. Because of this Cameron's socialite/model sister Tess decides to "help" and post a picture of Nate's shoes on her social media. This blows up in everyone's face and forces Nate to kind of go into hiding. I really don't want to give away any more of this story because it is so good! One thing that I really appreciated was Nate's step-mom Tanya. Her character really grew throughout the book and I ended up appreciating her side of the story. Another thing that was really awesome was the fact that there was no coming out part of this book. The two MCs are both already out and living their lives. There's not hiding any part of themselves and they get to live full, out lives which is so nice and refreshing to see in a book about two young gay men.
Listen, this was such a cute, slow burn, enemies to lovers story that I don't even really want you to waste time reading this review. GO READ THE BOOK!! I loved every minute of this book and I would HIGHLY recommend it to pretty much anyone. I am going to be singing its praises from high on the rooftops for years to come.
Next up we have American Panda by Gloria Chao. This book is about Mei. She is a 17-year-old freshman at MIT studying to be a doctor. She is on the right track according to her parents: become a doctor, marry a Taiwanese boy (approved by her parents of course), and have a bunch of kids. But Mei doesn't want that life for herself. If she tells her parents that though, she runs the risk of being cut off from the family-like her brother Xing. Is it worth it? Can she tamp herself down and be the perfect Taiwanese daughter that her parents want or will she break free and be her own person?
This book was so good! I laughed, I cried (a lot), I cheered for Mei, and I really loved every minute of it. This book had a lot of great descriptions of familial guilt. I have struggled with that myself before especially when it comes to the older generation of family members. I love how this book ended and I'm really excited to read more by this author!
One of my favorite books from September is called The Marriage Clock by Zara Raheem. From Goodreads: "In Zara Raheem's fresh, funny, smart debut, a young, Muslim-American woman is given three months to find the right husband or else her traditional Indian parents will find one for her–a novel with a universal story that everyone can relate to about the challenges of falling in love."
I really, really adored this book. As someone who is approaching 30, I understand the urge to get married and settle down. I don't get the same pressures that Leila does though. I really felt like this book did a fantastic job of balancing her parents' wishes and Leila's as well. It was very well written (I only found one typo throughout the entire book) and the story just flowed so beautifully. I most definitely cried a few times while reading this but I also cheered too. I would highly recommend this book to pretty much anyone. It is a fantastic read.
Lastly, I read a YA book that had been on my TBR list for a very long time. I'm talking about When Dimple Met Rishi by Sandhya Menon. I have no idea why I waited so long to read this book because it was fantastic! I loved Dimple. She is a fantastic heroine. I am very aware of all of the negative reviews of this book over on Goodreads which I find strange so I'll just say my piece about this real quick. I remember being a 17-year-old girl, do you? Because if a stranger came up to me and knew my name and was like what up future wife?? I would have been immediately like you're a stalker, byeeeeeeeee and noped out of there real quick. Have your parents not taught you basic stranger danger?!?! It would be a whole different story if Dimple knew she was meeting Rishi and still threw her coffee at him. That is rude. But that's not what happened at all. I'm also a little confused by people saying that just because Dimple didn't like makeup and wearing traditionally "girly" clothes that she was hating on other girls?? Like where did you read that in the book? Celia, who is her best friend, is super girly and wears makeup and has a huge wardrobe to boot and Dimple never says oh I'm better than you because I don't wear makeup. Of course, this book wasn't perfect and neither were the characters but that's the point! People aren't perfect. There was plenty of give and take, mistake-making, and misunderstandings in this book. That's what makes the ending and the lead up to it so good!
October
One of my favorite reads in October was As Kismet Would Have It by Sandhya Menon. This is a novella sequel to When Dimple met Rishi. I read When Dimple Met Rishi last month and I really liked it so I was super excited to dive into this short story about them. This book picks up right where the first book leaves off but it explores the theme of marriage more in-depth than before. If you have read the first book then you know that Dimple is not a fan of marriage and Rishi is a hopeless romantic who wants the classic white picket fence life for himself.
In this novella, Rishi tells Dimple that he wants her to decide if marrying him is what she really wants. He doesn't want to force her to do something that she doesn't want to or that she'll regret later on in life. (Just FYI I'm going to be spoiling the ending of this book so don't read this last section if you don't want to know!) I loved the ending of this book! I loved the fact that Dimple ended up proposing to Rishi. As someone who did that with my fiance, I was like yes, please show more girls proposing to guys! I loved it. I would highly recommend this book if you've read the first one. It was a great ending.
This next one is the graphic novel adaptation of the modern classic, Speak by Laurie Halse Anderson. If you have never read Speak here is a brief synopsis from Goodreads: "From the first moment of her freshman year at Merryweather High, Melinda knows this is a big fat lie, part of the nonsense of high school. She is friendless–an outcast–because she busted an end-of-summer party by calling the cops, so now nobody will talk to her, let alone listen to her. Through her work on an art project, she is finally able to face what really happened that night: She was raped by an upperclassman, a guy who still attends Merryweather and is still a threat to her."
I've read Speak so I knew what I was getting into reading this book. The illustrations are beautiful and powerful and they go with the story amazingly. The story lends itself really well to a graphic novel adaptation. The subject matter is sometimes hard to read but I really feel like this book is an important one for people to read. Now as a graphic novel I feel like it's even more accessible than before. I would highly recommend this book to anyone. If you are a fan of Speak then this book will definitely be right up your alley.
November
I read a lot of really great books in November so I apologize in advance for how many books this section is going to have in it (and I took some out!!). Are You Listening? is a graphic novel by Tillie Walden. Here is the blurb from Goodreads: "Bea is on the run. And then, she runs into Lou.

This chance encounter sends them on a journey through West Texas, where strange things follow them wherever they go. The landscape morphs into an unsettling world, a mysterious cat joins them, and they are haunted by a group of threatening men. To stay safe, Bea and Lou must trust each other as they are driven to confront buried truths. The two women share their stories of loss and heartbreak—and a startling revelation about sexual assault—culminating in an exquisite example of human connection.
This was one of my favorite graphic novels from the entire year. I'm not sure how Tillie Walden writes and illustrates these graphic novels to beautifully but man do they stick with you! I love the gorgeous pallet of soft pinks and purples throughout this book. It really made it seem to have a dream-like quality that fit very well with the story. If you are already a fan of Tillie Walden then I would say definitely give this one a shot.
The next book that I want to talk about is Technically, You Started It by Lana Wood Johnson. This was one of my favorite books that I read last year. I'm not sure why but it really has stuck with me even though I read it a few months ago. This story is about Martin and Haley and a mix up that ends up defining their relationship. 
This book starts off with Haley getting a text from a guy in her class about a project that they're working on. Their text exchange rapidly evolves into an all-consuming text-based friendship that may possibly be something else altogether. Can their friendship withstand the mix up that started all this?
Lastly, for this month we have ANOTHER Riley Sager book (I swear this is the last time I will talk about him in this post). The Last Time I Lied is about Emma and her time at Camp Nightingale fifteen years ago. After a tragedy closes the camp Emma goes on to become a rising star in the art world of NYC. But just as she finally feels like she has some distance from what happened all those years ago at Camp Nightingale, she is asked to return as an art instructor. Can she finally figure out what happened to the campers that went missing fifteen years ago? Or will the past rear it's ugly head once again?
I have to say, this was one of my favorite fiction books of the year. I absolutely love Riley Sager and I cannot wait to read his next book that is coming out later this year!!
December
One of my favorite books from December was Five Feet Apart by Rachel Lippincott. From Goodreads: "Can you love someone you can never touch?

Stella Grant likes to be in control—even though her totally out of control lungs have sent her in and out of the hospital most of her life. At this point, what Stella needs to control most is keeping herself away from anyone or anything that might pass along an infection and jeopardize the possibility of a lung transplant. Six feet apart. No exceptions.

The only thing Will Newman wants to be in control of is getting out of this hospital. He couldn't care less about his treatments, or a fancy new clinical drug trial. Soon, he'll turn eighteen and then he'll be able to unplug all these machines and actually go see the world, not just its hospitals.

Will's exactly what Stella needs to stay away from. If he so much as breathes on Stella she could lose her spot on the transplant list. Either one of them could die. The only way to stay alive is to stay apart. But suddenly six feet doesn't feel like safety. It feels like punishment.

What if they could steal back just a little bit of the space their broken lungs have stolen from them? Would five feet apart really be so dangerous if it stops their hearts from breaking too?"
This was such a great book ya'll! It was pretty sad though so if you don't want to cry I would not suggest this one. I knew a little bit about it going in so I was prepared for the waterworks but it still got to me. 
Morimoto, a young professional woman in Japan, is tired of fending off her parents' questions about her being single. They want her to marry a man and settle down, and they'll insist on nitpicking her choice of groom to death. In an unexpected move, another woman in the office—who has a crush on her—offers to be her wife in a sham marriage, which might make her parents back off. But this "fake" marriage could unearth something very real!
One of the last manga that I read at the end of the year was I Married My Best Friend to Shut My Parents Up by Naoko Kodama. This was a super cute manga that I really enjoyed. It was a great way to end my reading year!
That is (finally) it! I hope you all enjoyed reading all of my reviews. I look forward to talking with you in the comments about some of your favorite books from 2019!