This month I got to read a lot of fantastic books. Let's jump right into the books and get down to the reviews!
The first book that I really enjoyed this month is called The Cardboard Kingdom by Chad Sell. This is a really cute and colorful book about summer fun and finding yourself. It starts off with a few kids playing around with some cardboard that they've made into costumes and props and develops into something more over the summer. There are all sorts of cute kids that come into the picture as the summer progresses. A good mix of boys and girls and plenty of different skin tones as well. The kids learn to play together – even if they didn't get along at first or even if they started out as the neighborhood bully. They come together to build an imagination fueled cardboard kingdom where the play and have fun together. There are some lessons learned as the summer goes on but this is mostly a really adorable graphic novel about summer fun. I really liked it and I would highly recommend it!
The next book that I really loved is called Sanity and Tallulah by Molly Brooks. This book is FANTASTIC!! I love the friendship between Sanity and Tallulah. I wanted to hang out with them so badly throughout the whole time I was reading it. This is one of those books that I loved as an adult but really would have adored and probably re-read multiple times as a child. It had a little bit of spooky-ness, some sci-fi, friendship, and mystery all rolled up into one. This book is geared towards middle graders but I really think tweens and some teens would love this book too. I would recommend it to kids that like sci-fi but really anyone would enjoy this.
Next up I read volume five of A Silent Voice which is a manga by Yoshitoki Oima. I have read this entire series and I believe I've talked about it here before but this volume was a really nice one. If you are not familiar with the story, the main character, Shoya, was a horrible bully to his deaf classmate Shoko and led a small band of children to torment her. They bullied her so much that she ended up changing schools. This series is about Shoya trying to apologize and make it up to Shoko. The thing that I really like about this series is that they don't shy away from depicting the bullying. They show all of it. It makes it hard to read in some places. And they also deal with how Shoya feels about what he did in the past and how he much he desperately wants to make up for it. I also like that fact that they don't just focus on Shoko. They bring in her mom and family members that were also affected by Shoya's bullying and show how they feel towards him and how much it affected them as well. This is not a series that has a lot of happy feel-good stuff in it but it is very well done and the subject matter is something that I think a lot of kids should read about. It teaches them that their actions don't only affect one person. They can affect whole families and cause issues that some people will have to deal with for many years to come. I highly recommend this series even with the heavy themes that it deals with.
The next book that I read and really enjoyed this week is another one that deals with some heavy topics. It is called Monster: A Graphic Novel by Walter Dean Myers and adapted by Guy A. Sims. I will admit that I have not read the original book so I went into this blind. Our MC Steve Harmon is accused of being a lookout in a robbery where someone was killed. This book follows his trial. Not knowing anything going into this I think was a good thing. I have heard of the book before but it has been awhile. I didn't know the outcome of the trial as I was reading so there was a lot of suspense as the book went along. I really enjoyed that the book was all in black, white, and shades of grey. Even of you have never read the book that this graphic novel is based on, I would highly recommend this book.
Next up, I read a manga called Delicious Dungeon by Ryoko Kui. This was one of my favorites of the week! It is so cute and the story is really interesting as well. This first volume is all about a group of adventurers who were venturing into a dungeon when one of their members gets eaten by a dragon and the rest of the party gets killed. Once they re-spawn outside the dungeon, they realize that they don't have enough money or food to go back into the dungeon and rescue their friend. So they decide to eat the dungeon creatures that they find along the way! I really loved this manga and I highly recommend it especially if you are a fan of other cooking manga (like Sweetness and Lightning!).
One of my favorite graphic novels from this month that I absolutely adored was Meg, Jo, Beth, and Amy: A Graphic Novel: A Modern Retelling of Little Women by Rey Terciero and illustrated by Bre Indigo. Here is the description from Goodreads: "2018 marks the 150th anniversary of the classic Little Women by Louisa May Alcott. Join Meg, Jo, Beth, and Amy as they are re-envisioned as a blended family living in modern day NYC in this beautiful graphic novel.
With their father away in the military and their mother working two jobs to support the family, the March sisters have to rely on one another to make it from day to day. Whether they're arguing over the bathroom, struggling with homework, fighting off bullies, understanding their crushes, or battling cancer, there's one thing the four sisters keep questioning–will everything turn out okay?
Join modern young women, Meg, Jo, Beth, and Amy in a new narrative that follows four sisters and their struggles in growing up, dealing with racism, discovering themselves, and following their dreams."
I really loved this retelling of Little Women (I know there are a ton out there lately) mostly because it felt updated without being forced. I loved that they were living as a blended family and having their dad be deployed felt very realistic. They felt like they could be a real family that you would know in this day and age. The sisters all had their own unique personalities and I felt that they all came through fantastically throughout the book. If you are a fan of women driven graphic novels then I think this one would be a great read for you. I would highly recommend it.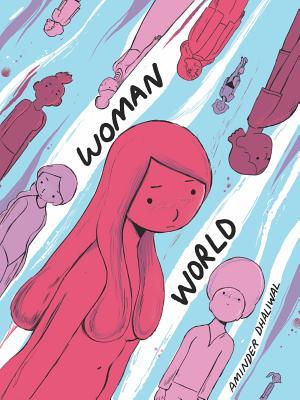 The next graphic novel that I read is called Woman World by Aminder Dhaliwal. This is a webcomic by the same name that has been released in a fantastic print edition with previously unreleased materials. I wasn't sure what this was going into to it. It was on our new shelf at the library and it sounded interesting so I grabbed it and took it home to check it out and I'm so glad that I did! This comic is about a world without men. A birth defect wipes out all the men in the world and the only remaining population are women (and people who identify as women). I wasn't sure if I was going to like this book but it was so fantastic. I really liked the simple artwork and the color palette as well as the hilarious comics. I would highly recommend this to all the ladies out there to check it out.
Next we have a graphic novel called Glitch by Sarah Graley. This book is more geared towards a middle grade audience but I still really enjoyed it and I think as long as you go into it knowing that it is not an adult book really anyone can love this book. This story is about Izzy who gets sucked into her new video game, Dungeon City. Once she's inside the video game she meets a robot named Rae who saves it is her destiny to save Dungeon City. But is it really though? You will have to check out the book to find out! This book was really fantastically done. I loved the story and the gorgeous colors throughout the book. I would highly recommend this book for video game fans especially but it's really great for everyone!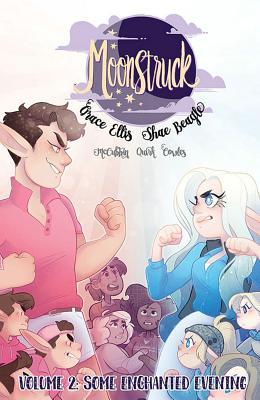 The next book I read was a comic book called Moonstruck, Volume 2: Some Enchanted Evening by Grace Ellis. I have read volume one and liked it but this volume fell very short from the first volume. The story seemed to not make much sense. There were times where there was a life or death type of situation but then the characters that were supposed to be saving them went to the mall?? It didn't seem to make much sense to me as a reader. I loved all the representation but I didn't really understand the relationship between the two main characters, Selena and Grace. They were all madly in love one second and they yelling and screaming for really small things the next second. Again, it didn't really make much sense. My favorite character is still Chet by far, he is the best and always hilarious. I feel like if you liked volume one you can maybe check this out but honestly, I wouldn't really recommend this volume. Hopefully, volume three will be better.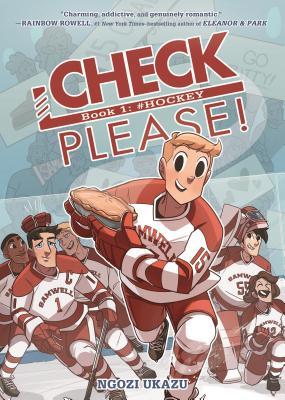 The last book I wanted to talk about was my favorite of the week, Check, Please! #Hockey, Volume 1 by Ngozi Ukazu. Here is the description from Goodreads:
"Helloooo, Internet Land. Bitty here!
Y'all… I might not be ready for this. I may be a former junior figure skating champion, vlogger extraordinaire, and very talented amateur pâtissier, but being a freshman on the Samwell University hockey team is a whole new challenge. It's nothing like co-ed club hockey back in Georgia! First of all? There's checking. And then, there is Jack—our very attractive but moody captain.
A collection of the first half of the mega-popular webcomic series of the same name, Check, Please!: #Hockey is the first book of a hilarious and stirring two-volume coming-of-age story about hockey, bros, and trying to find yourself during the best four years of your life."
THIS BOOK YOU GUYS. This book was absolutely adorable and I loved it with all of my heart. I will 100% be adding this book to my collection. I loved all of the characters and the story is great and it's just GREAT YOU GUYS. Everyone needs to read and love this book.
Next up I read a comic book called Jack Wolfgang: Volume 1 by Stephen Desberg. This is a really interesting book with a concept that I've never come across in all my reading years. The story starts off with our main character Jack Wolfgang helping out one of his CIA buddies. Jack works for the CIA but his cover is a legendary food critic that writes for the New York Times. This allows him to travel around relatively undetected to go on CIA missions.
I really liked the story of this graphic novel. It's not one I've really come across and I enjoyed reading something with a new twist on a spy story. The artwork was also really nicely done as well. I would recommend this book to fans of spy stories or mysteries. I think this would be a great addition to any library; it's a very fun read!
I read the cutest manga this month! It is called Chi's Sweet Home (Part 1) by Komami Kanata. Here is the description from Goodreads: "Chi is a michievous newborn kitten who, while on a leisurely stroll with her family, finds herself lost. Seperated from the warmth and protection of her mother, feels distraught. Overcome with loneliness she breaks into tears in a large urban park meadow., when she is suddenly rescued by a young boy named Yohei and his mother. The kitty is then quickly and quietly whisked away into the warm and inviting Yamada family apartment…where pets are strictly not permitted."
One of my favorite series by Katie O'Neill gets a new edition later this year and I was lucky enough to get a ARC copy from NetGalley to check it out! This book is called The Tea Dragon Festival and takes place in the same universe as The Tea Dragon Society. This is such a cute book you guys! I have read The Tea Dragon Society and Aquicorn Cove and adored them both so I was pretty sure I would love this one too and I was right! This book is all about Rinn who lives in Silverleaf Village. As she is out foraging for food in the forest she stumbles upon a rundown shack. Inside the shack she finds Aedhan, a Dragon of the Shining Wing Clan. The rest of the story deals with Aedhan learning about her village and figuring out what's going on. This is such a fantastic book and the color palette is gorgeous. I would highly recommend this book if you are a fan of Katie O'Niell's other books.
Lastly, I read a fantastic graphic novel called Just Enough by Flavia Biondi. I absolutely loved this book. I wasn't sure if it was going to be something that I would like but I'm so glad that I gave it a chance. This story is about Manuel and Mia who are living in a house with so many roommates that they haven't even met one of them yet. The story starts off with Mia quitting her job while Manuel works and writes a popular story online. The two of them have been together for eight years and are both coming to terms with their day to day reality. Mia is unsatisfied with her life so far and doesn't know what to do about it. This story is a slice of life and romance all rolled up into one. It really deals with what you do after you get out of college and life really doesn't turn out like you wanted it to. What do you do?
I would highly recommend this book. The artwork was fantastic as well as the story. If you are a fan of slice of life type graphic novels then this will be right up your alley!
That is it for this month! I hope you all had a great June and got to read a lot of books. I am almost done moving (by the time this goes up I will be in my new place! But without Wi-fi for a little while, booooo). Let me know in the comments if you guys read anything good in June! I'm always looking for some good suggestions.