What are you guys reading this week? I have a bunch of stuff that I'm working on right now that I'm really enjoying! Firstly I'm still reading Shout by Laurie Halse Anderson. I'm really enjoying it even though it is taking me a long time to finish it up. I feel like this is one of those books that I really am enjoying reading slowly and savoring each of the poems.
The next book that I'm reading is Wicked and the Wallflower by Sarah MacLean. (From Goodreads): When Wicked Comes Calling…
When a mysterious stranger finds his way into her bedchamber and offers his help in landing a duke, Lady Felicity Faircloth agrees—on one condition. She's seen enough of the world to believe in passion, and won't accept a marriage without it.
The Wallflower Makes a Dangerous Bargain…
Bastard son of a duke and king of London's dark streets, Devil has spent a lifetime wielding power and seizing opportunity, and the spinster wallflower is everything he needs to exact a revenge years in the making. All he must do is turn the plain little mouse into an irresistible temptress, set his trap, and destroy his enemy.
For the Promise of Passion…
But there's nothing plain about Felicity Faircloth, who quickly decides she'd rather have Devil than another. Soon, Devil's carefully laid plans are in chaos, and he must choose between everything he's ever wanted…and the only thing he's ever desired.
I'm really loving this one so far. I'm a few chapters into it and I can tell that it's going to be one of those really fun romances that will leave you wanting to read more of the series. Luckily my library has the rest of the series so I can pick up the next one immediately!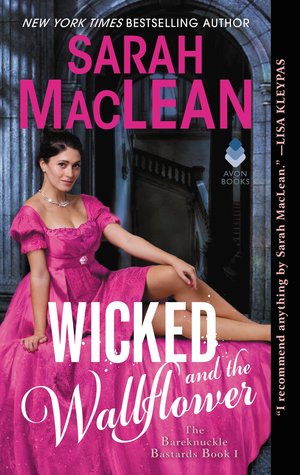 Next up we have My Favorite Thing Is Monsters by Emil Ferris. Set against the tumultuous political backdrop of late '60s Chicago, My Favorite Thing Is Monsters is the fictional graphic diary of 10-year-old Karen Reyes, filled with B-movie horror and pulp monster magazines iconography. Karen Reyes tries to solve the murder of her enigmatic upstairs neighbor, Anka Silverberg, a Holocaust survivor, while the interconnected stories of those around her unfold. When Karen's investigation takes us back to Anka's life in Nazi Germany, the reader discovers how the personal, the political, the past, and the present converge. Full-color illustrations throughout (Goodreads).
This is a huge book! Not only length but it's the size of a large spiral bound notebook as well. Even though I feel like I'm a decent way into this book, I'm really not that far into it. What I have read so far I am really loving. The art style is something really different than I am used to with a graphic novel or comic book. The whole thing looks like it is made out of a notebook and drawn with different colored pens. I'm very intrigued by the story and I'm excited to see where it goes.
The last book that I am reading right now is Binge by Tyler Oakley. Pop culture phenomenon, social rights advocate, and the most prominent LGBTQ+ voice on YouTube, Tyler Oakley brings you his first collection of witty, personal, and hilarious essays written in the voice that's earned him more than 10 million followers across social media (Goodreads). I'm about 20 pages into this book and I'm loving it so far! I've watched Tyler Oakley on YouTube for a few years now so I was already familiar with his style. Because I'm already a fan I was pretty sure I would like his book and so far I was correct! I will update you guys with some more in-depth thoughts once I have read some more of this.
That is it for what I am currently reading/enjoying right now! What are you guys up to? Are you reading or doing anything fun? I will be going to Megacon in Orlando next week which I am super excited about. This will be my third year going and I still get so excited each year. Leave me a comment down below, I would love to hear from you!